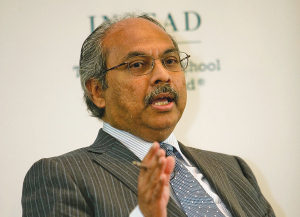 Dato' Dr. Vaseehar Hassan
Chairman & Co-Founder, Zilzar Tech Sdn Bhd
Adjunct Professor, University Technology Mara
Associate Professor, UniRazak
Independent Director, Guidance Investments (Labuan) Limited, Asian Finance Bank Malaysia & Ingress Corporation Berhad
Former Chairman, Utama Merchant Bank, RHB Islamic Bank & Unicorn Islamic Investment Bank Malaysia
Author, Malay Leadership Mystique
With over 30 years as a corporate executive and board leader in the financial and food business sectors, Vaseehar is an executive coach, specialized in training top leadership teams. His extensive research on leadership uniquely equips him as a leadership coach in global Asia.
As the Malaysian CEO of Dallah Al Baraka, he managed a wide portfolio of businesses ranging from banking, food, healthcare, plantations and real-estate. In his financial role, he served in various capacities in merchant banking covering mergers and acquisitions.
Vaseehar was a board member of a variety of companies and financial institutions like Bank Islam Malaysia, Utama Banking Group and RHB Banking Group. His experience was invaluable as he had to deal and interact with people from operational to senior management levels.
As the negotiator for the merger of Bank Utama and RHB Bank, he was subsequently elected as a board member of all the RHB Group's key subsidiaries including the Chairmanship of RHB Islamic Bank.
For his valued contributions in attracting Middle-Eastern investments to Malaysia, and his services to the financial sector in Malaysia, Vaseehar was honored with Datoships from the states of Penang and Sarawak.
As an adjunct professor with University Technology Mara and associate Professor with UniRazak, Vaseehar is the only Malaysian member of the International Society for the Psychoanalytic Study of Organizations (ISPSO).
Vaseehar holds an INSEAD Master's Degree and an HEC Master's Degree with Honours. He received his Doctoral Degree from Vrije Universiteit Amsterdam in 2013.
He is the author of Malay Leadership Mystique and co-authored Where Lies the Heart of ASEAN? Leadership for Postmodern ASEAN (under publication).